NEARITY's A20 conference speakermic demonstrates clear industry leadership in a world that is rapidly shifting to remote and hybrid workplaces. Limited audio and video optimization of most hardware and software solutions for video conferencing are leading to longer, less productive sessions, and keep colleagues from connecting. The A20 bridges that gap, combining NEARITY's self-developed audio algorithms with innovative, class leading physical construction to bring crystal clear audio to everyone, from everyone. Advanced features such as beamforming, AI noise reduction, echo suppression, de-reverb technology, and daisy-chain technology ensure that every space can be a welcoming work-space.
What's different about the NEARITY A20 Conference Speakermic?
One of the biggest advantages of the A20 conference speakermic is it's substantial two-layer structure. The upper part contains the speaker and simple physical controls, delivering clear 360 degree sound and effortless use during meetings. The lower part mainly consists of the acoustic structure and the microphone array. Currently leading the device class with 8 MEMS microphones in a circular array, they work hand-in-hand with software to offer the industry's top beamforming capability and provide the clearest possible voices in any conference room environment.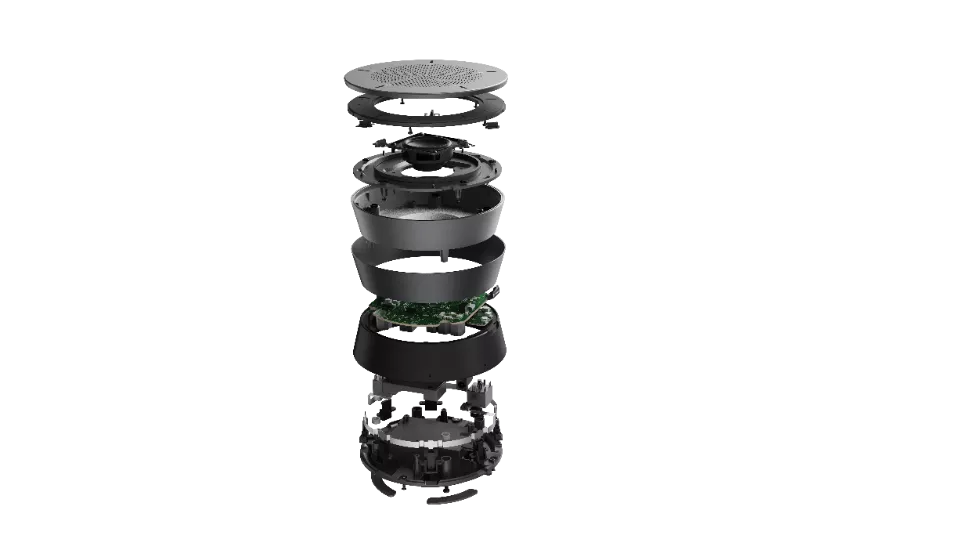 How does the A20 Conference Speakermic connect?
The NEARITY A20 connects to devices via standard USB-C plug, allowing both power and data to be supplied via one simple cord for fast, stable call quality. Plug-and-play is also taken to its logical end by using Power-Over-Ethernet to connect daisy-chained units. Through this technology a single power-unit can supply up to 5 speakermics, and almost any length of cable is available for easy deployment. A20 and its partner devices won't limit you to USB lengths to design and build your ideal workspace.
What size room is the A20 Conference Speakermic best suited for?
A single A20 unit can clearly pick up sound from over 800 square feet (30㎡) of meeting room with its 16ft range, allowing people to be heard wall to wall for small to mid-sized meeting rooms of up to roughly 8 people. Connected and powered by just one ethernet cord, 5 units working together can cover over 4,000 square feet (150 m2). NEARITY's proprietary daisy-chain technology makes A20 the only speakermic solution able to be so easily scaled.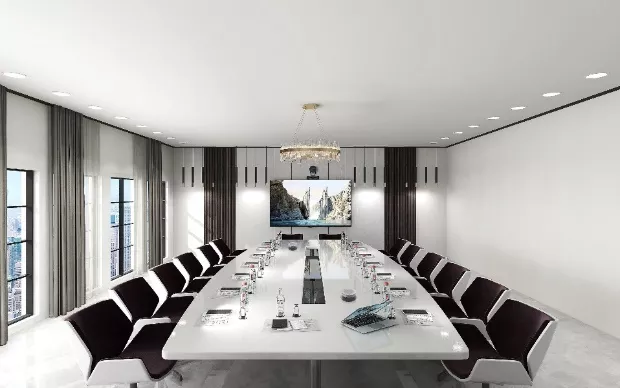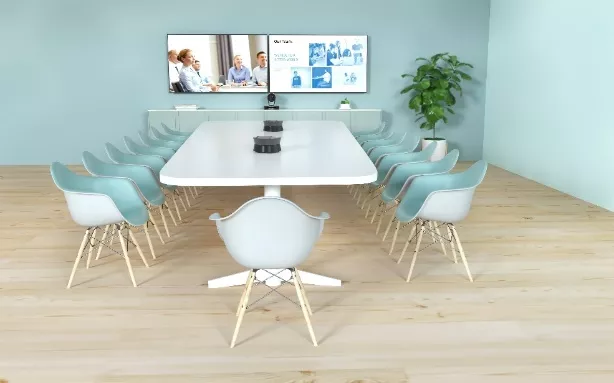 Why recommend the A20 Conference Speakermic ?
First is the A20 speakermic's acoustic performance. While background noise cancellation has become a common function in the industry, NEARITY also focuses on echo cancellation and de-reverberation with proprietary and patented software enabling even glass walled rooms to provide crystal-clear sound. Second is NEARITY's daisy-chain functions. Knowing that rooms come in all sizes, linking up to five (5) A20 units create a powerful tool that hears from wall to wall and corner to corner. Third, NEARITY's C30R All-In-One camerabars are plug-and-play compatible with up to four (4) A20 units, creating one comprehensive integrated microphone and camera array. Attached by ethernet, they combine AI audio tracking and beamforming with advanced AI video tracking and framing features. Plug-and-play setup, simple use, and easy expansion make the A20 a great tool for medium and large rooms, too.
About NEARITY
NEARITY creates innovative solutions for distance collaboration, driving clear communication through experience focused design, patented audio technology, and world-class cameras. Offering a complete portfolio of solutions to businesses around the world, NEARITY makes hybrid workspaces and modern offices possible.Industry leading daisy-chain technology creates comfortable and expandable spaces to work and share ideas in, while deep learning and traditional signal processing, AI noise suppression, multi-lobe beamforming, and full duplex technology make sharing ideas easy and crystal clear.
With over 40% of NEARITY's team focused on research & development, and products continually refined through feedback from our clients & partners, NEARITY is focused on delivering creative new solutions that drive organizations forward with every conversation.