Customer Profile
As a leading digital service provider, the customer puts forward the innovative "Data Cloud Fusion" strategy and technical system framework. This focuses on cloud native, digital native, and data cloud fusion key technologies and Xin Chuang industry. It develops product and service capabilities, providing agile IT capabilities and integrated data-driven capabilities for customers in different stages of digital transformation. This is across industries such as fast-moving consumer goods, automotive, financial, medical, government and enterprise, education, operators, and more. It builds cross-border fusion innovation digital business scenarios and new business models, helping enterprise-level customers to establish core capabilities and competitive advantages for the future. This promotes the digital and intelligent transformation and upgrading of society.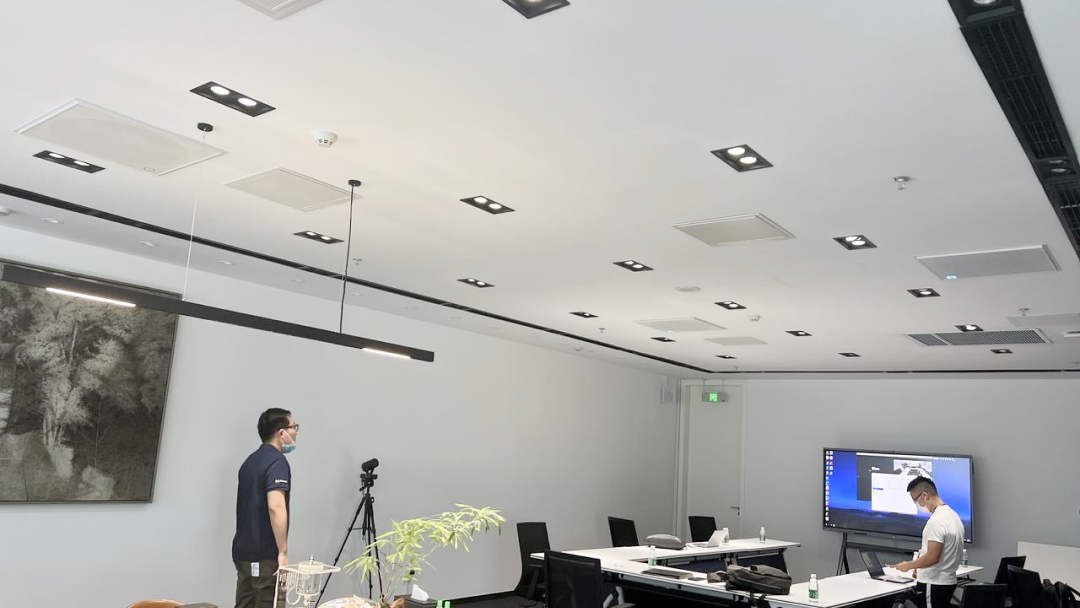 Challenges
1. The customer office requires audio equipment for local sound reinforcement due to poor acoustics
The customer office has an area of 90-100 m², with one glass window and a glass whiteboard. The ceiling height is more than 3 meters, and it is divided into three functional zones: a demonstration area, a U-shaped table meeting area, and a tea table area. The overall acoustic environment of the area is not ideal, so a set of audio equipment is necessary to capture sound and provide local sound reinforcement.
2. The sparsely decorated customer office has strong acoustic reflection, noticeable echo, and a unique atmosphere due to heavier reverberation
The customer office space is sparsely decorated, with only a few items placed here and there. The room is quite spacious, and the overall acoustic reflection is strong, resulting in a heavier reverberation. There is a noticeable echo within the space, which emphasizes the emptiness and amplifies any sound that is present. The reverberation has a slightly muffled effect, creating a unique atmosphere that can be quite pleasant.
3. Video Pro software requires a compatible audio solution
The MAXHUB+OPS module is used for videoconferencing hardware, and Shenzhou Video Pro is the software. Therefore, an audio solution that is compatible with this existing platform is needed.
NEARITY Solution
Board Room Solution
NEARITY solution: 3 NEARITY A50 ceiling array microphones, 1 AMX100 DSP audio processor, 4 ASP110 speakers, and 1 V415 conference camera.
The NEARITY A50 is the most advanced integrated ceiling array microphone solution for video conferencing. It features a built-in 91-unit MEMS microphone array and can be daisy-chained up to 8 units to cover the entire conference hall in all directions, allowing speakers to move freely. The A50 also provides 12 custom beams, which can adapt to different room layouts and various seating arrangements. This ensures effective noise avoidance while providing clear sound pickup.
The NEARITY V415 features a 5x optical zoom and 3x digital zoom lens. It can rotate ±175° horizontally, using a PTZ cloud platform to maximize coverage of the conference space. A privacy protection design ensures the security of the conference. It's USB plug-and-play, with a variety of expansion interfaces, making it suitable for various conference scenarios. Additionally, V415 can store up to 4 preset positions. NEARITY has set up four presets for customer office meetings: a U-shaped table, a panoramic whiteboard, a close-up whiteboard, and a close-up of the boss. This makes it easy for customers to shift their image with just one click of the button.