Overview
Our valued customer is a leading technology company founded in 2014 with a commitment to enhance daily life through innovation. Headquartered in China (Hangzhou & Shenzhen), the United States, Japan, Germany, India, and Colombia, they operate globally and have partnerships with over 50 Fortune 500 companies, including Philips, Schneider Electric, Lenovo, and more.
challenges
The customer's frequent meetings, both offline and remote, suffer from reverberation and poor experience.
The customer faces frequent meetings, both in-person and remote, that suffer from reverberation and poor audio experience. Reverberation is the persistence of sound in a room after the initial sound source has stopped, causing echoes and distortion. The issue can be particularly problematic in large or poorly designed meeting spaces. Poor audio experience can result from a variety of factors, such as low-quality microphones, inadequate amplification, or interference from background noise. These issues can significantly impede the effectiveness of meetings, making it difficult for participants to hear and understand each other, leading to miscommunication, frustration, and wasted time.
Customer employees using laptop terminals for meetings require improved efficiency and experience.
The customer's employees rely on laptop terminals for meetings, which can lead to several issues. First, laptop microphones and speakers are often of lower quality than dedicated audio equipment, resulting in poor audio quality and difficulty in hearing participants. Second, using a laptop for meetings can be inefficient, as it often requires participants to huddle around a single device or pass it around, causing disruptions and delays. Finally, using a laptop for meetings can be uncomfortable, as participants may need to strain to see and hear the screen, leading to fatigue and reduced engagement.
Solution
To address the challenges faced by the customer, the Nearity A20 Conference Speakermic was introduced.
A20 expandsdesktop microphone array cascading function to meet wide-range audio pickup n
The A20 device is a game-changer for meeting audio, allowing for cascading of up to four units to provide distributed audio pickup and amplification. This results in a consistent and clear speaking and listening experience, ensuring uninterrupted focus during meetings. The device's audio capabilities can be customized to suit the specific conference room environment, eliminating reverberation in different spaces and significantly improving the audio quality during remote meetings. With the A20, our customer's meetings will be more productive and engaging than ever before.
A20 has noise reduction algorithm collection for clear voice output
The A20 device features advanced 3A audio algorithms that optimize omnidirectional microphone and speaker performance. This intelligent system incorporates noise reduction and echo cancellation capabilities, resulting in exceptional audio quality pickup and full-duplex communication within a 5-meter radius. With the A20, users can enjoy crystal-clear audio, free from unwanted background noise or echoes, leading to more effective and productive meetings.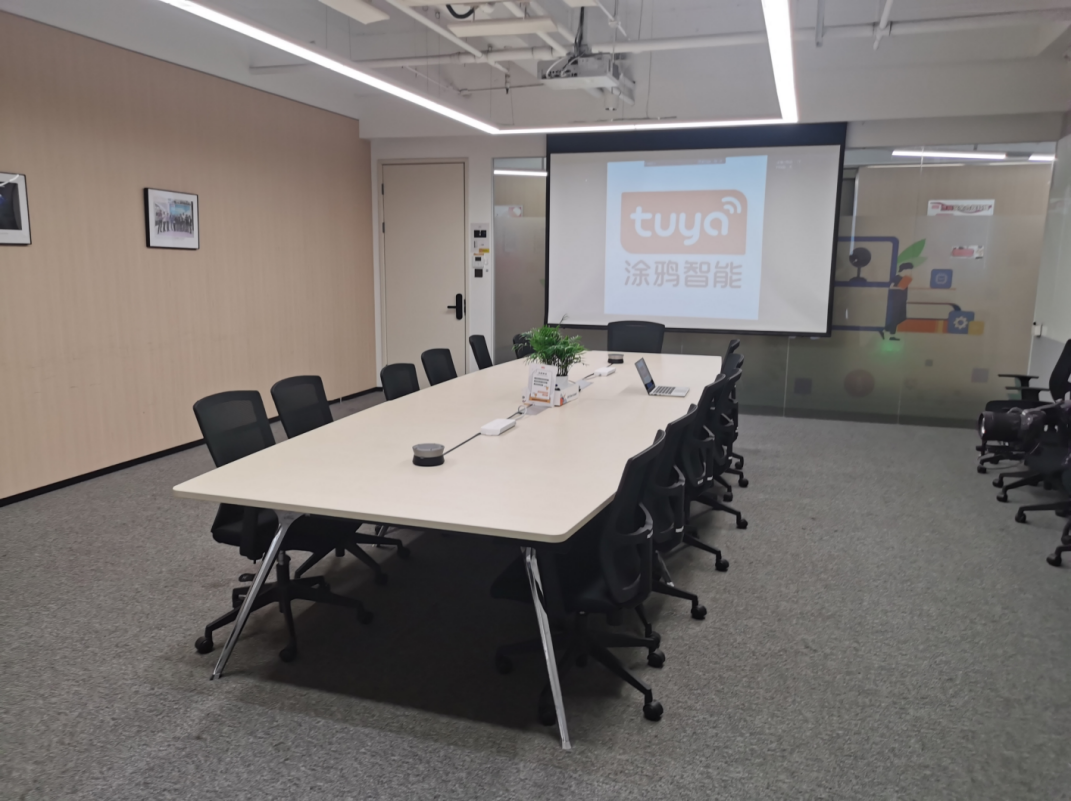 Result
The Nearity A20 Conference Speakermic proved to be an effective solution for our customer's audio challenges in both remote and on-site meetings. The device's advanced 3A audio algorithms and cascading function allowed for distributed audio pickup and amplification, resulting in a clear and consistent speaking and listening experience. Additionally, the A20's noise reduction algorithm collection eliminated unwanted background noise and echoes, ensuring crystal-clear audio during meetings. With the Nearity A20, our customer was able to enhance the productivity and engagement of their meetings, ultimately leading to better collaboration and communication.