Introduction
In an era defined by digital connectivity and remote interactions, Cornell University has embraced the power of technology to foster collaboration, learning, and engagement. At the forefront of this transformative shift stands Cornell Zoom, a versatile and feature-rich video conferencing platform that has become an integral part of the university's fabric.
Cornell Zoom represents more than just a tool; it embodies a dynamic ecosystem that empowers students, faculty, staff, and researchers to connect, learn, and thrive in a virtual landscape. With its user-friendly interface and robust capabilities, Zoom has revolutionized the way Cornellians communicate, collaborate, and build meaningful connections, transcending the boundaries of physical spaces and enabling seamless interaction from virtually anywhere in the world.
How to activate Cornell Zoom account?
Open a web browser and go to https://cornell.zoom.us/signin
To access the CUWebLogin page, please log in using your Cornell NetID and password when prompted.
If requested, please complete the authentication process using Two-Step Login.
Your Zoom account will be activated automatically and you'll be taken to your Zoom Profile page.
After successfully activating your account, you have the option to personalize your Zoom Profile page. For instance, you can select a photo of yourself to showcase when joining a meeting without video capability.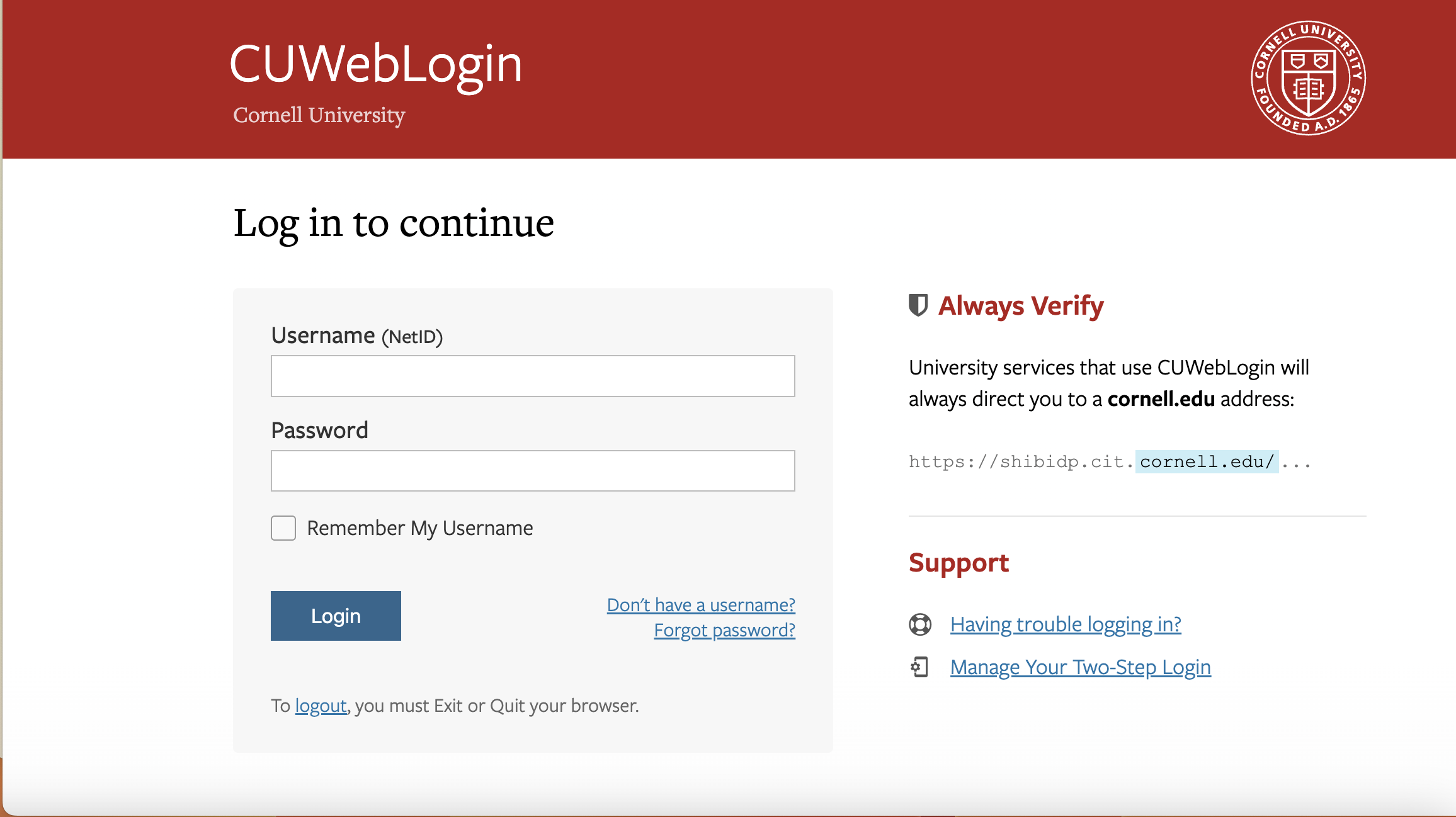 How to log in to Zoom App
To access Zoom, you have two options: through the Zoom app or via the Zoom website. Both methods are equally effective, so choose the one that suits your preference. Here's how to log in:
If you have downloaded the Zoom app on your device (Windows, Mac, Android, iOS), open it. If you see a screen prompting you to sign in, click on "Sign In with SSO." On the subsequent Sign In with SSO screen, enter "cornell" and click "Continue."
It's possible that you may not encounter these screens and instead be directed straight to CUWebLogin (as explained in step 3 below). If this occurs, don't worry. The Zoom screen may show options like "Join a Meeting" and "Sign In." Choose "Sign In with SSO."
You will then be redirected to the familiar CUWebLogin screen, where you'll need to enter your NetID and associated password. If you have enabled two-step login, you will be required to complete the authentication process as well. Additionally, if you have enabled two-factor authentication for CUWebLogin, you will need to perform Two-Step Login after entering your credentials. Please note that some units enforce mandatory two-factor authentication.
Once the login process is complete, the Zoom app will open and you'll be ready to use it.
How to join a Zoom Meeting or Webinar?
(Be sure you have logged in to the Cornell Zoom website before joining Cornell-related Zoom meetings or webinars.)
To join a Zoom meeting or webinar, the process is usually straightforward:
Look for an email from the host containing a link. Click on the link to join directly.
If you're accessing Zoom through your Canvas course, navigate to the Zoom section and click on the Join link provided.
Open your Zoom application and click on the Join button. It will prompt you to enter the necessary details.
Alternatively, visit the Cornell Zoom website, click on "Join Meeting," and provide the Meeting ID when prompted.
By following any of these methods, you should be able to join your desired Zoom session with ease.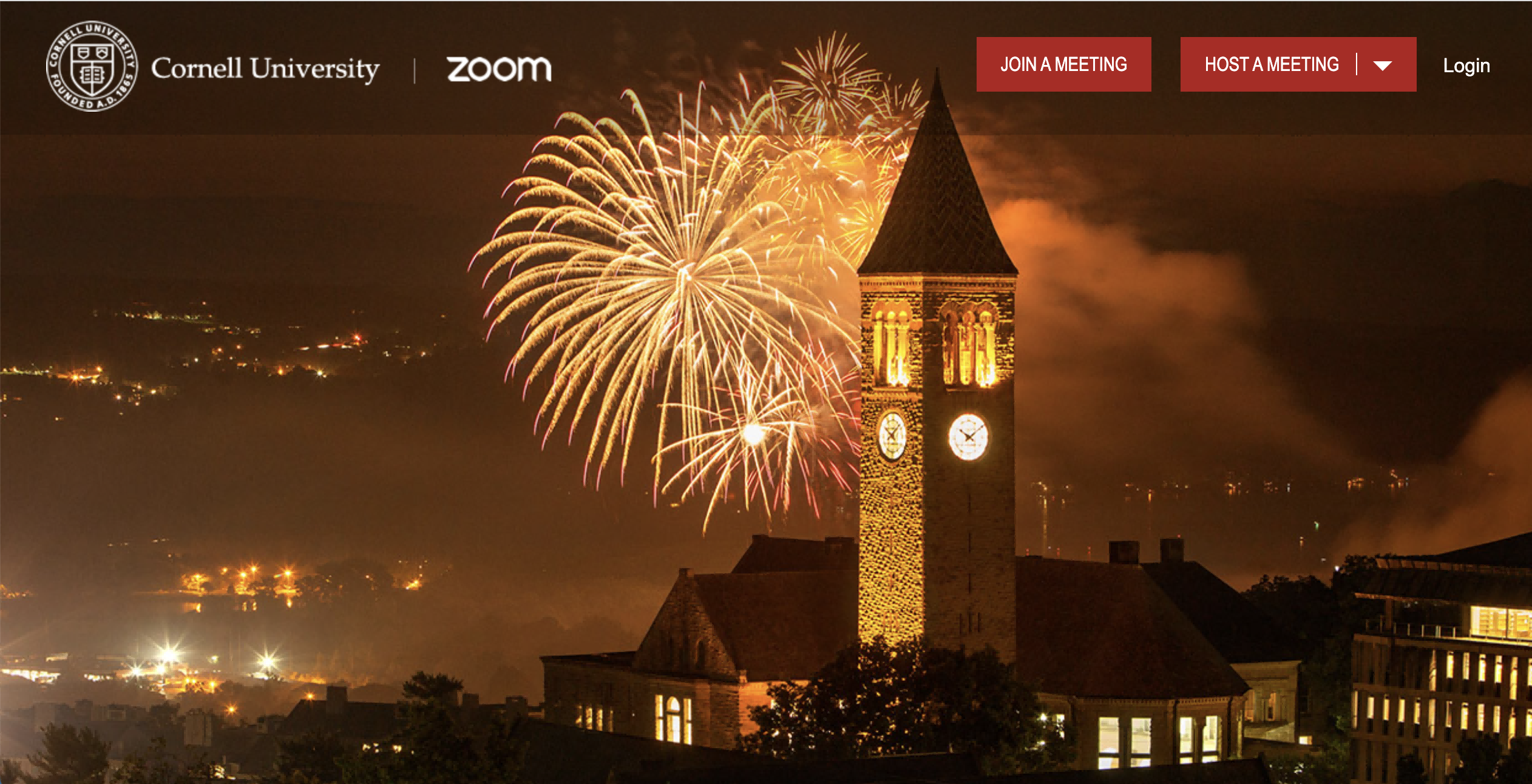 How to transfer files during Zoom Meetings?
During Zoom meetings and webinars, the in-meeting file transfer feature enables participants to conveniently send files through the Chat panel. This functionality allows files to be shared with all attendees or sent directly to a specific participant.
Enable In-Meeting File Transfer
To utilize this functionality, the host must initially enable the in-meeting file transfer feature in the Zoom settings. This setup only needs to be performed once. Here's how to enable in-meeting file transfer for your meetings:
Sign in to the Cornell Zoom website (cornell.zoom.us).
Navigate to the "Settings" section and select the "Meeting" tab.
Scroll down to locate "File Transfer" under the "In Meeting (Basic)" category.
Click on the toggle switch next to "File Transfer". When enabled, the slider will turn blue.
Confirm the changes by clicking "Turn On".(The slider will turn blue when enabled.) Confirm by clicking Turn On.
To restrict the types of files allowed to transfer, click Only allow specified file types. Then use the text box to type file type extensions that you want to allow, separated by commas.
You can also restrict the size of files that attendees may transfer. To do this, click Maximum file size and adjust the file size value.
Click Save.
Transfer Files During a Meeting or Webinar
While you are in a Zoom meeting:
Click Chat (if the Chat panel is not already open).
At the bottom of the Chat panel, use the To dropdown to select either Everyone or the name of a particular attendee.
Next, click File, then select Your Computer. Use the Browse window to locate the file you want to transfer.
Zoom will alert the sender that the file has been transferred.

Recipients of the transferred file will see a notice in their Chat feeds. They can click the notice to download the transferred file, then click again to open the downloaded copy.
It's important to be awarethat files transferred during a meeting might be cached on Zoom's servers for a duration of up to 24 hours. However, once the meeting concludes, these files are no longer accessible for attendees to download. Keep in mind that this caching period is a security measure implemented by Zoom. After the designated time frame, the files are no longer retained or available.
How to share your screen during zoom meeting?
When hosting a meeting, click Share.
In the window that opens click Advanced(a tab near the top of the screen).
You'll see three choices: a. Portion of Screen: This feature allows you to share only a specific portion of your screen. When you initiate screen sharing, a colored rectangle will appear, which can be moved and resized to define the exact area you want to share. b.Computer Sound Only: With this option, the host can share the audio from their computer without actually sharing their screen. For instance, if the Lab of Ornithology is conducting a Zoom presentation and wants to play a recorded bird song, they can use this feature to share just the audio while keeping their screen private. c.Content from 2nd Camera: This functionality enables the host to share content from a secondary camera. For example, during a lecture, a professor can utilize an overhead-style camera with transparencies or a microscope camera, allowing them to share both the additional camera's feed and their own "face" camera simultaneously.
Some tips for using Cornell Zoom
Test your equipment and internet connection
Before attending a Zoom meeting, ensure that your computer or device is running smoothly and your internet connection is stable. Test your microphone, speakers, and camera to make sure they are working properly. Cornell provides guidelines and resources for troubleshooting technical issues on their IT website.
Joining a meeting
When joining a Zoom meeting, be mindful of the meeting ID and password, if applicable. Double-check the meeting details provided by your instructor or organizer. It's also recommended to join a few minutes before the scheduled start time to allow for any potential technical difficulties.
Mute your microphone when not speaking
To avoid background noise and distractions during a meeting, keep your microphone muted unless you need to speak. This ensures everyone can hear more clearly and reduces the chance of unintended disruptions.
Utilize virtual backgrounds or blur feature
If you're in an environment with potentially distracting backgrounds, consider using Zoom's virtual backgrounds or blur feature. This helps maintain visual focus on you during the meeting.
Be mindful of privacy and securityP
rotect your privacy by being cautious about sharing personal information or displaying sensitive content during meetings. Avoid clicking on unfamiliar links or downloading files from unverified sources within the Zoom meeting.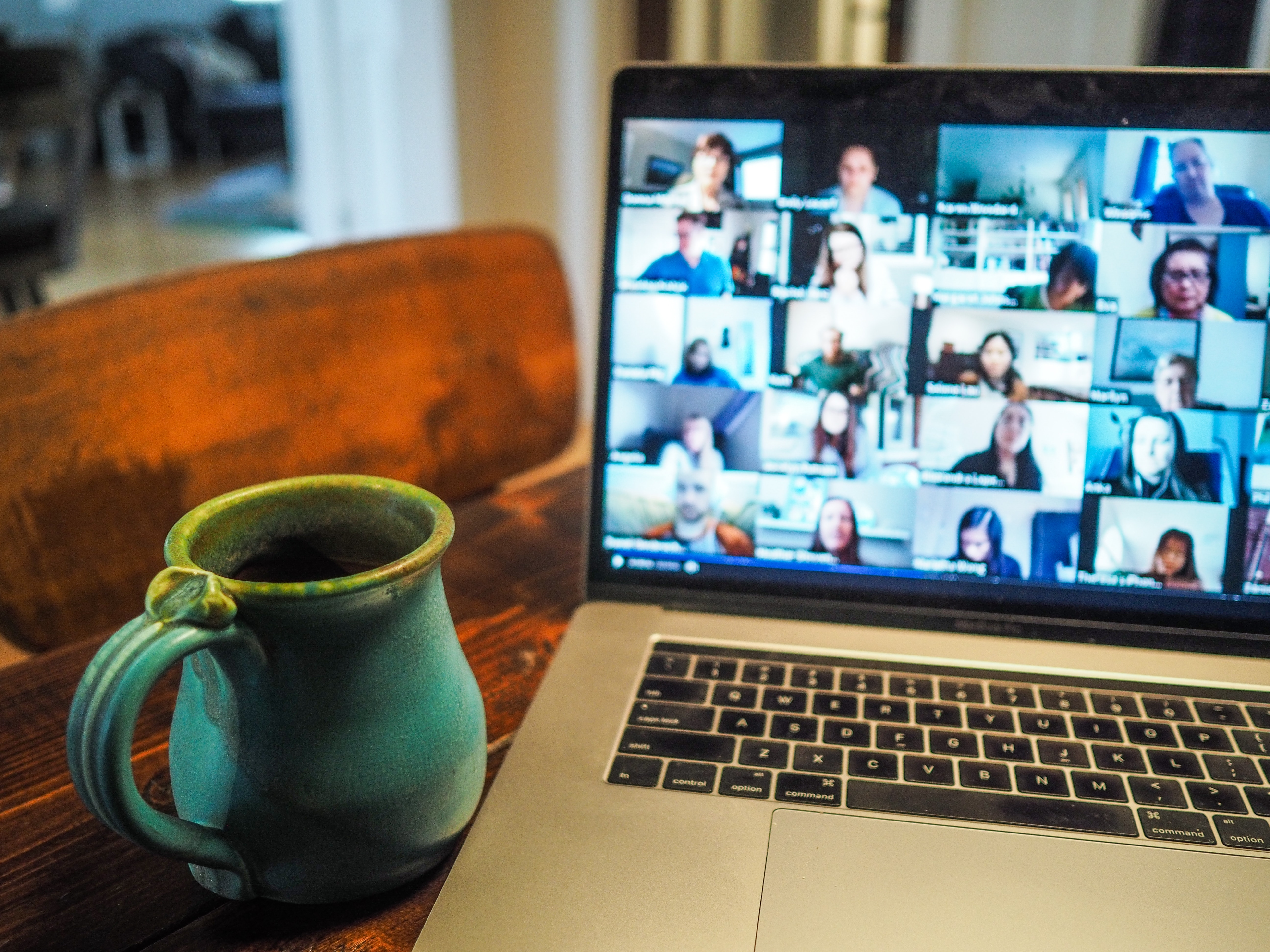 Conclusion
Cornell Zoom has revolutionized virtual collaboration and learning at Cornell University. With its user-friendly interface, robust features, and seamless joining process, it empowers students, faculty, staff, and researchers to connect and collaborate effectively. When it comes to enhancing your Zoom meetings at Cornell, the A20 is a good solution for small to mid-sized meeting spaces. With a range of 16 ft and advanced noise suppression capabilities, the A20 ensures that your Zoom meetings at Cornell are clear and distraction-free. The full-duplex technology of the A20 takes your Zoom meetings to the next level. It enables seamless and simultaneous communication between both ends of the call, ensuring that no words or details are missed during important discussions or presentations. With the A20, you can optimize your Zoom meetings at Cornell, ensuring that every participant is engaged and connected. Choose the A20 for your small to mid-sized meeting spaces and witness the transformation in your Zoom meetings at Cornell today.
Read More